wellbeing.ai coaches are our certified, trusted partners. They can assist you in interpreting the wellbeing scores and help you define the actions and follow-up programs to address burnout, anxiety, engagement and enjoyment in the organization.
Shirley
Devey
Shirley is a clinical psychologist with a wealth of experience in helping individuals navigate the challenges of stress, burnout, and overall wellbeing. She is highly skilled in coaching individuals through the process of reintegration, whether it be returning to work after a break or transitioning to a new job.
In addition to her background in psychology, Shirley is also trained as a coach, which allows her to approach her clients with a holistic, solution-focused approach. She is dedicated to helping her clients find greater satisfaction and balance in their professional and personal lives.
Anouk
Doore
Anouk's passion is to support people by bringing together her experience in health, sports, and business. Her purpose is to inspire people and give them new experiences so they can transform towards sustainable habits, living happy & healthy lives.
She founded her company PACE to help companies to integrate sustainable habits in the culture to enable sustainable performance.
She studied Social & Cultural Agogics and Economics, and worked as a consultant at large and smaller consultancy firms for over ten years.
Bobbi
Hartshorne
Bobbi optimizes wise organizations, leaders, and employees who understand that wellbeing is a vital component of long-term success.
She does this by applying cutting-edge research, straight-talking insights, tailored strategies, and practical implementation that can be embedded and sustained.
Bobbi has lived and worked in the UAE for over a decade supports clients across the GCC region and beyond.
Emma
Unsworth
Meet Emma, a serial entrepreneur and founder, turned dedicated wellbeing coach. Her journey recovering from burnout ignited her passion for wellbeing and supporting others to thrive sustainably.
Emma's mission is to empower changemakers to excel in a rapidly evolving world; wellbeing is at this foundation. With Wellbeing.ai , Emma introduces even more tangible solutions for elevating wellbeing that enhance impact, sustainability, and profitability.
Stefanie
Vanlerberghe
After taking on a strategic, tactical, and executive role within companies for 23 years, Stefanie's passion for organizational structure and the well-being of people within them, grew. In 2021 she decided to start her own company to coach other companies to create a self-managing team, to make their systems and processes less complex, and to free up more time to work ON the business. This according to the principles of an open organizational culture where responsibility, transparency and cooperation are key.
From the many challenging assignments, there still is a lot of work to be done to convince company managers that wellbeing of their employees equals win-win for everyone. Concrete data can make a real difference here.
Caroline
Debal
Caroline started her career as an auditor in various sectors, ranging from local companies to multinationals. More than 15 years ago she took the step into the Human Resources world and built up expertise in recruitment, talent management, outplacement, coaching and training.
Caroline is an experienced and international certified coach (PCC) with a proven track record. She takes a holistic approach in guiding people in their professional and personal development. Her expertience lies in following areas: stress & burnout coaching, wellbeing, resilence, job coaching, career guidance, team coaching and Enneagram coaching.
As a coach she strongly believes in the inner strength and potential of her client. She encourages them to explore core values, set priorities and identify a vision for the future.
Sandra
Van Reeth
For more than 15 years Sandra worked in HR, as well as employee as in manager functions. In 2013 she started her own business, Quest For Life, to combine HR consultancy with coaching. She is trained in coaching, enneagram, heart coherence, stress and burn-out, and career guidance. The last years she also studied for a master's degree in Positive Psychology, to focus more on evidence based practices and resilience.
As a consultant she works for different companies as a sparringpartner. As a coach she focuses on the wellbeing and flourishing of people. The combination of her background in HR, knowledge of Positive Psychology and her years of expercience as a coach, makes her an enthusiastic guide by your side when you just need it.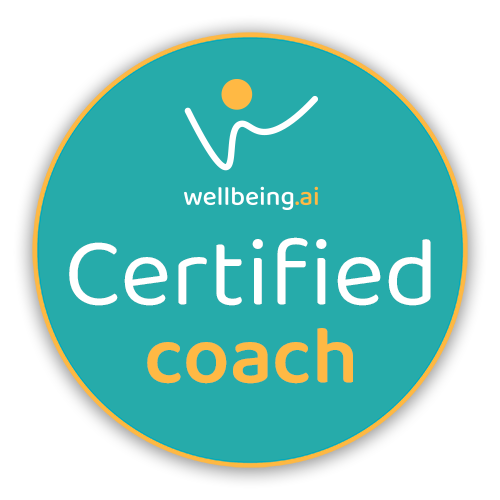 Interested in becoming a wellbeing.ai coach?
Reach out to find out more!